Improve Triple Bottom Line with Indoor Plants

Triple Bottom Line Explained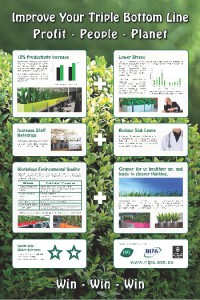 The triple bottom line (TBL) refers to a how a corporation deals with and reports on its impact and behaviour in respect to people, planet and profit.
It reflects a corporation's greater transparency and accountability in its public reporting, communication and disclosure in regard to how the corporate entity performs in environmental, social and economic dimensions.
While there is no single universally accepted definition of TBL reporting, in a sentence is defined as corporate communication with stakeholders that describes the company's approach to managing economic, environmental and social dimensions of its activities.
In terms of: People – social justice, Planet – environmental issues and Profit – economy prosperity.
Profit – People – Planet Poster – Download


Green Star Offices Outperform Rest of the Market
The Australia Green Property Investment Index released by IPD this month shows positive results for the owners of Green Star-certified offices.
In the year to June 2013, the Green Star market delivered higher investment returns and lower capitalisation rates than the broader office market. Overall, cap rates for Green Star buildings are at 7.3% p.a, in comparison to the broader office market at 7.5% p.a. 6 Star Green Star offices delivered the best cap rate results at 6.8% p.a.
Green Star offices continue to outperform the rest of the office market delivering a 10.8% annualised total return result, in comparison to the rest of the office market at 9.4%.
Facility Managers Association (FMA) 2010 Conference
Prof. Margaret Burchett represented NIPA at this years Ideaction 2010 in Perth.
Rather than take a booth NIPA chose to develop a poster which could be used after the event.
The poster is attached to a wall, the owner stands near and talks to passers by.
Profit – People – Planet Poster – Download
Office Plants - Improve Triple Bottom Line
The University of Technology Sydney (UTS) also produced a poster for the event.
It has a similar theme but gives a scientific slant and more importantly includes a Selected Bibliography covering researchers and their papers.
This 4 page brochure covers Indoor Environment Quality and how plants contribute to over 75% of the criteria.