A few creative ideas that may give you the answer to make your Indoor Plant Hire Brisbane or Gold Coast office the place you imagine.
Space Savers – Partition Troughs – Top-Siders
Modern offices don't have a lot of space to spare and traditional hire usually locates Green Life on the floor or a desk.



But this is no longer true.  We now use cabinet top space, wall space and even the top of partitions. These Urban Partition Troughs (also known as Top-Siders) from CottaPot are available in any designer colour. We also hire slim-line troughs used as floor partitions and they come on wheels so are easily moved.
Simple Green Wall
Green Walls are space savers and allow concentration of foliage in a small area. This attractive Eco Green Wall installed by Green Design Indoor Plant Hire in Sydney show foliage at its best.
An internal column in Brisbane with two Terra Walls.  This wall will look great in a week or two when the plants acclimatise, grow a bit and re-orient their leaves to the light.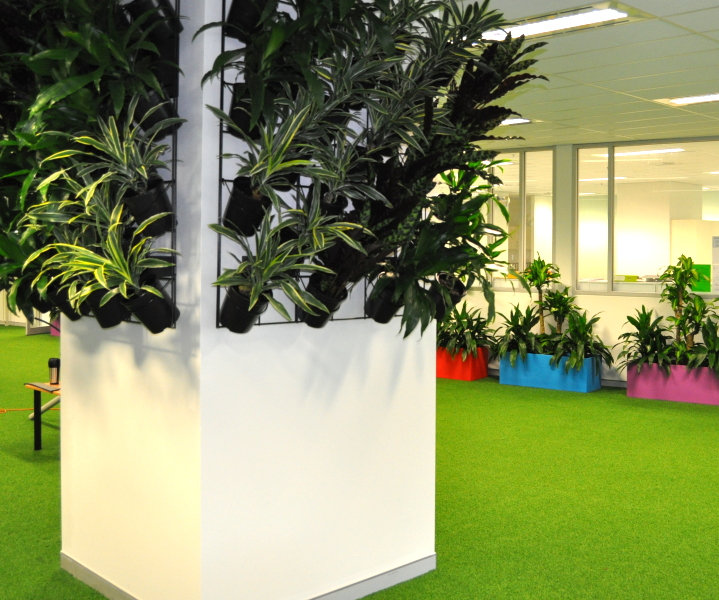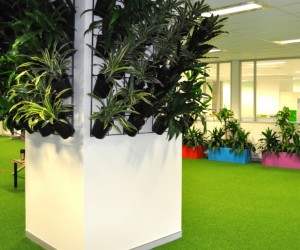 It is easy to maintain and very economical considering the number of pots hired. These walls also add points towards Green Building Council's Green Star rating IEQ-15. IEQ Indoor Plant Hire has an Accredited Green Star Professional on their staff.
Colour – is what it is all about
Plants are usually green but decorative containers are any colour you like.  We can match any colour, whether it be a corporate decision, to highlight an existing colour or to add new interest.  Don't lose an Opportunity. At IEQ Indoor Plant Hire we believe hiring colour is one of the main elements of design.
We will work with you or your interior designer to achieve the desired result.  White is stunning, but using colour properly gives a real wow and you will never be sorry.  Terracotta is traditional but does not suit every situation – in fact, we have not bought terracotta for about 5 years.  Currently black is fashionable for back office where the planter is not the main item.
Make sure you ask to see our full range and check our gallery to see many more examples of colour being used.
Plants Can Also Add Colour
Hiring potted colour usually requires bright natural light.
This Aglaonema is new to indoor plant hire Brisbane, but in trials does very well.  Available late 2011 at selected Brisbane nurseries.  It features in the Spring Edition of Plantscape, the newsletter for the Interior Plantscape Association of Australia. Flowers add colour and so do Bromeliads.
The colour in a Bromeliad is not the flower modified leaves called bracts. That is why they last for several weeks, they are not petals.  However they need replacing more often than a simple plant and the hire price reflects this cost, but still, a cost saving compared to fresh flowers which need replacing every week or so.
Use Plants for Best Effect
Green Life gives many different effects.
Consider this Ficus Lyrata hired to Silhouette against the Brisbane sky.
Check out the IEQ Plant Gallery to see many more examples of different styles.
They are used to:
continue an "architectural" or minimalist theme
to soften a room and make it more "homely"
as a centrepiece, maybe in a sculptural form
mass planting gives a sense of design and control.
Balcony Hire
Maybe you don't have much floor space but you have a balcony that staff use or a small balcony seen from inside the office.  We hire balcony/patio units.  There are many troughs that will suit a balcony.
Normally plants do not do well on a balcony in Brisbane, they get blown around or baked in the sun but we always configure them for sub-irrigation.  On a balcony, the selection is limited of course and depends on the orientation to the sun and prevailing wind but we know which plants to use.
We can even configure your own planters for sub-irrigation.
Schiavello Vertical Garden
Designer – Joost Bakker, Manufacturer – Schiavello
Vertical garden's design consists of natural elements interlaced with aspects of urban living architecture and environment. A grid system that vertically stacks plants. The vertical garden combines industrial elements with plant-based displays in freestanding columns or walls.
A sculptural form creating a raw, natural feature for corporate, residential, retail and hospitality environments. Available with traditional terracotta pots or designer colours in square or round.
The plants will give a clean architectural look or a lush hanging garden.
This is also a space saver and a way to hire concentrated vegetation to gain Green Star IEQ-15 points.